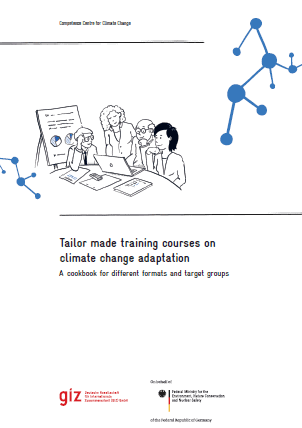 When planning a training event, trainers and commissioners may be uncertain which modules to choose and how to organise the event in order to deliver effective results. The adaptation training course has undergone several enhancements and revisions since its inception in 2011, covering newly discussed topics such as ecosystem-based adaptation (EbA) and going into more detail on monitoring and evaluation (M&E) and climate science.
The "cookbook", published by GIZ in 2013, is based on the valuable experiences from more than thirty training workshops in different countries and for a variety of target audiences. In its first part, it covers key "ingredients" for programming a CCA training event and gives guidance on questions that often arise during preparation. The second part contains tried and tested "recipes", i. e., training design briefs for different training formats depending on the target group and the desired output. It is available for download in English and French and Spanish.
Téléchargez le livre de recettes en français.
Descargue el libro de cocina en español.