The approach
GIZ in cooperation with the Organisation for Economic Co-operation and Development (OECD) has developed a training course on 'Integrating Climate Change Adaptation into Development Planning'. The GIZ project 'Climate Change Adaption in Rural Areas of India (CCA RAI)' puts a special emphasis on human capacity development (HCD). The project has developed a systematic approach for customising the existing training for specific demands in the Indian context. The approach involves assessing training needs, developing training contents based on these needs and delivering trainings.
Scope and entry points
India adopted a National Action Plan on Climate Change (NAPCC) at National level and State Action Plans on Climate Change (SAPCC) at sub-national level. The customised trainings aim to build capacities of policy makers and practitioners to identify, select, and integrate adaptation options into State Action Plans and sectorial development plans. Consequently, this will support the implementation of the plans at national, sub-national or local levels.
How it works
CCA RAI identified training needs for a diverse group of participants ranging from government officers, to adaptation practitioners and NGOs. In order to establish a group of trainers who can conduct these trainings, a training-of-trainers was organised for participants from India, Nepal and the Philippines. Based on the experiences and feedback received from past trainings, a reflection workshop was organised in New Delhi in September 2012. The participants included GIZ staff, trainers and CCA RAI state government partners. The objective of the workshop was to analyse the quality of impact and learning transfer as a means to provide orientation and direction for future HCD-activities. This went hand in hand with getting an up-to-date picture of the specific HCD needs within the project's partner states. The reflection workshop formed the basis of developing a road map for training content development and customisation for India.
The core results of the reflections workshop included:
Examples from actual climate change adaptation work will be used to develop contents for the training materials of the different training modules.
A 'cook book' with design briefs for four different training audiences will be prepared:
– High level decision makers event: 0.5 day programme
– Practitioners Training: 3 days programme
– Training of Multipliers: 6 days programme
– Training of Trainers: 10 days programme
A state-of-the-art input on climate science in India will provide information on IPCC climate models and projections of relevance to India, a summary of India's adaptation actions at national and state level and vulnerabilities to climate change of different sectors/regions in India.
These results will be reflected when adjusting training contents for India. Trainings based on the new design will be planned once the customisation is complete.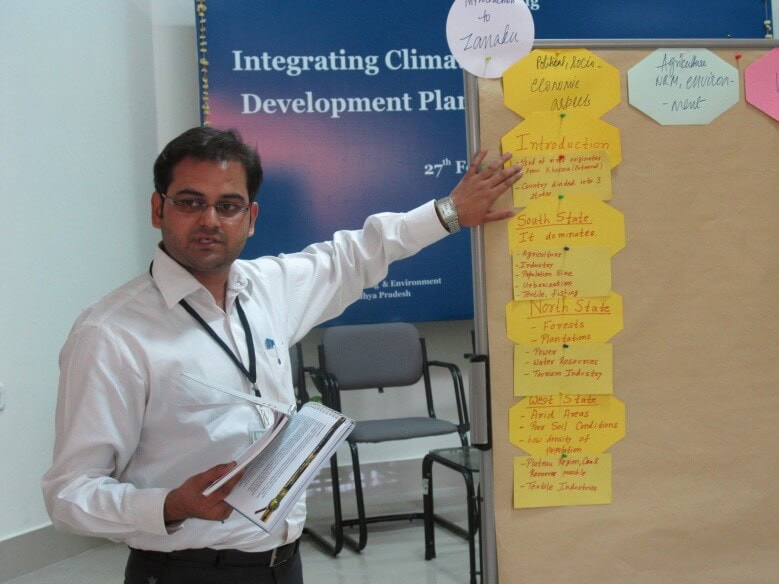 Participant presenting group work at training in Madhya Pradesh
Specifics of application
Stakeholders and institutional set-up
CCA RAI took the lead together with the nodal officers from its partner states and trainers of the previous training-of-trainers. Consultants were engaged to prepare the different sections of the new training design based on their experience and competencies. The training content was peer reviewed by the consultant team and CCA RAI. The process was conducted in a participatory manner also involving state partners from the environment departments. They were well aware of the needs of different state departments on climate change issues because they were the nodal agency in their state for implementation of government adaptation policies and programmes.
The main expertise which was required for developing the training design was that of experienced trainers. Additional expertise was required for adding scientific information on climate science and policy to the training. Funds are needed for consultancy contracts, the reflection workshop and to conduct future trainings. The time required for the total process of developing training contents is estimated to be 10 months.
The training will be documented in the format of a handbook, power point presentations and a background paper on climate science and policy for India. Four different formats were prepared for the four target groups. Real case examples were documented which can be used by trainers to illustrate different training messages. The overall output will be a customised training on 'Integrating Climate Change Adaptation into Development Planning for the Indian Context'.
Capacity required and Ease of Use
Engaging experienced trainers who know the existing training module is essential. Moreover, experts who know climate science and policy in India were required. A main future challenge will be the 'hand-taylored' design of individual trainings based on a careful assessment of the needs of the respective target groups.
Conclusions for future application
Once a customised training is delivered it will help the participants in identifying and implementing adaptation options in their work area. Capacities of government officers will support implementing State Action Plans on Climate Change.
Customisation is a moderately cost- and resources intensive process. Costs for delivery of trainings can be reduced if government training facilities are used and the trainings are integrated into existing training programmes.
Potential for replication
The approach for customisation of the existing training can be followed for any country and can also be downscaled to be followed for a lower level, e.g. a state within a country or a district in a state.
References
Website of the OECD training "Integrating climate change adaptation into development planning"
Reference for further information
Ms Anna Kalisch, Advisor, Project Climate Change Adaptation in Rural Areas of India (CCA RAI), Deutsche Gesellschaft für Internationale Zusammenarbeit (GIZ) GmbH, www.ccarai.org, Anna.Kalisch@giz.de