Tool Overview
This graph shows all tools developed for M&E of adaptation to climate change by the GIZ. Click on any gear-wheel for further Details: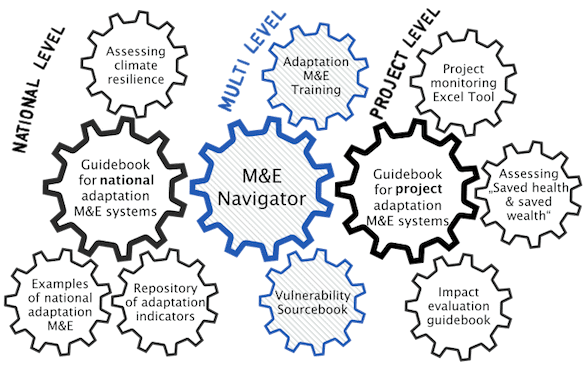 Toolbox
Alternatively you can get an introduction to M&E of adaptation to climate change and an overview of all tools developed by GIZ in the M&E Toolbox.
Monitoring & Evaluation "at a glance"
What is adaptation M&E?
Monitoring and Evaluation (M&E) of adaptation supports keeping track of the implementation of adaptation plans and actions and assessing their effectiveness and outcomes.
Adaptation M&E can focus on the process of adaptation (is implementation taking place) as well as on its outcomes, i.e. whether the objectives of adaptation actions get achieved.
Why adaptation M&E?
Adaptation M&E can support the ongoing management of adaptation interventions by assessing progress and pointing out needs for adjustments.
Adaptation M&E can also support learning and exchange about what works well and what does not , thereby helping to improve adaptation actions
Adaptation M&E can also provide accountability by demonstrating and reporting on results.
What are different approaches to adaptation M&E?
Approaches differ based on the purpose for M&E, e.g. whether adaptation projects or strategies are being monitored and whether the focus is on accountability or management and learning
Since adaptation is context specific and there are different purposes for M&E, there is no one-size-fits-all approach to adaptation M&E
M&E approaches also differ according to the level of application, e.g. project level, national level or multiple levels
The Adaptation M&E Navigator helps to select an M&E approach according to the M&E purpose
What experiences exist with adaptation M&E?
Countries are increasingly developing national adaptation M&E systems. A study by IISD & GIZ (2014) illustrates ten such systems with detailed factsheets.
So far there is far more emphasis on monitoring than on evaluation. Methods available for impact evaluation of adaptation projects are summarized in a guidebook.
Lessons learned from early experiences with adaptation M&E at national level are described in a comparative analysis and have informed a guidebook to develop adaptation M&E systems at national level.
Where is more information available?
A number of guidelines and tools have been developed and are shown in the graphic above. Please click on any of the boxes to get more details. You can also check out Further reading and Tools and training material.