Vulnerability / Risk Assessment
Vulnerability / Risk Assessment "at a glance"
From vulnerability to risk
In the Fourth Assessment Report of the IPCC (AR 4) from 2007, vulnerability is a core concept that describes the degree to which a natural or social system is susceptible to, and unable to cope with, adverse effects of climate change.
Yet, in the latest Fifth Assessment Report (AR5) of the IPCC Working Group II (WGII), this concept has been replaced by the concept of risk of climate change impacts. This risk concept has been adopted from the approach and practices of risk assessment in the disaster risk reduction community. By embracing the risk concept, the IPCC
accounts for the fact that a large proportion of interrelated impacts are triggered by hazardous events, which is more appropriately addressed by the risk concept;
encourages the climate research community to strengthen its efforts to determine the likelihoods of potential consequences as part of the risk assessment; and
contributes to an integration of the two research realms of climate change adaptation (CCA) and disaster risk reduction (DRR).
The AR5 risk concept focuses on assessing the risk of climate-related impacts that may harm a system. Risk is described as result of the interaction of vulnerability, exposure, and hazard. The vulnerability of a system is now only one component of the risk that may increase or decrease the potential consequences of a hazard.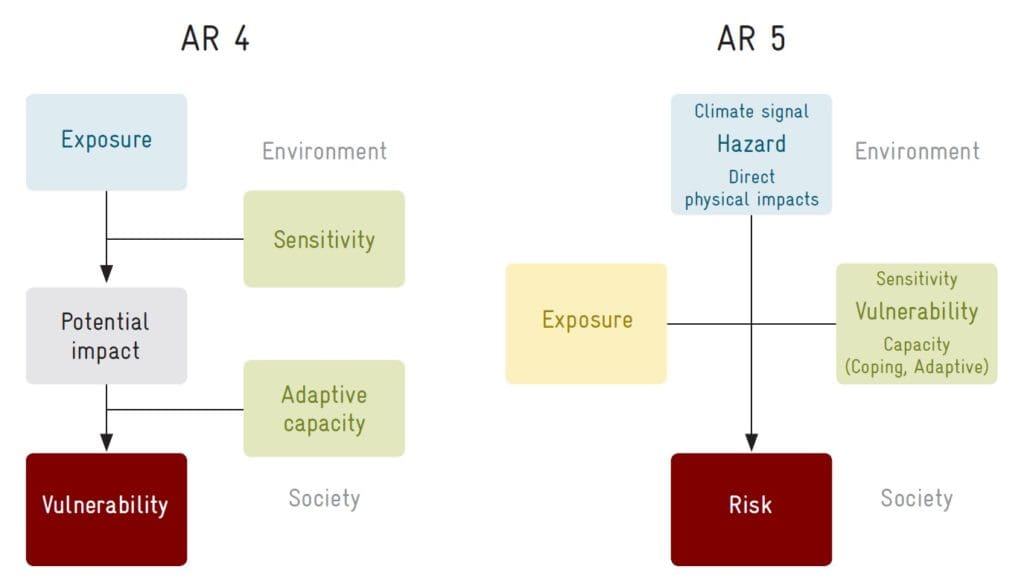 Comparison of the components of climate change vulnerability (AR4) and climate risk (AR5)
What are Vulnerability Assessments (VAs) and Climate Risk Assessments (CRAs)?
Vulnerability Assessments (VAs) and Climate Risk Assessments (CRAs) help to identify the nature and extent to which climate change and its impacts may harm a country, region, sector or community. The assessments of vulnerability and/or climate risks is therefore a central component of adaptation action.
What are the reasons for undertaking a Vulnerability Assessment or Climate Risk Assessment?
Vulnerability Assessments (VAs) and Climate Risk Assessments (CRAs) are important tools to support decision-making undertaken for different purposes. They can be used to identify main risks and impacts on people, regions and sectors as well as their vulnerability so that resources are allocated accordingly; they can be used in the design of adaptation policies and projects, and to establish a baseline against which the success of adaptation policies can be monitored.
What are the challenges and how can they be overcome?
The great variety of approaches to Vulnerability Assessments (VAs) and Climate Risk Assessments (CRAs) is often confusing for practitioners, but good overviews of the different approaches are available. Apart from finding the most suitable methodology, challenging aspects include the availability of data and the capacity to analyze it. In addition, VAs and CRAs often require specific technical expertise and significant coordination between different disciplines and actors.
What main lessons have been learned from application?
Vulnerability Assessments (VAs) and Climate Risk Assessments (CRAs) need to match their context in order to be able to provide meaningful and useful conclusions. VAs and CRAs on a larger scale are very useful for gaining initial insight when preparing VAs and CRAs on a smaller scale. VAs and CRAs on a smaller scale or focusing on special sectors, geographical areas or communities help to identify concrete adaptation measures for reducing vulnerability and risk.
Where is more information available?