Learning from each other's success – this is the concept of the PANORAMA – Solutions for a Healthy Planet partnership initiative – funded by IKI and GEF – to document and promote examples of inspiring, replicable solutions across a range of development topics, including climate change adaptation and ecosystem management.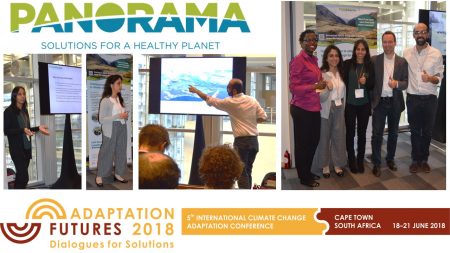 During Adaptation Futures 2018, GIZ and IUCN hosted a dialogue session showing that inspiring and replicable solutions can be found everywhere on this planet and that EbA solutions are an effective reply to climate change risks and deliver a multitude of benefits for societies, economies and environment. 
Concrete EbA solutions from urban areas, drylands and agro-ecosystems were discussed by participants and presenters and enabled learning from solutions that have worked, avoid previous mistakes, adopt successful strategies and exchange knowledge on adaptation:
PANORAMA Solutions presented:
The presentations of the event are available here.
Further contact: Mathias Bertram (mathias.bertram@giz.de)