Step 1: Apply a climate & ecosystem lens
Understanding the socio-ecological context
This first, exploratory step is about gathering information and understanding the socio-ecological system as well as its exposure to climate change. Focus should furthermore lie on a first engagement with stakeholders and on finding out how EbA can be best supported, incl. by identifying entry points. Thus, this step sets the scene for your mainstreaming process, identifies the problem by applying a climate and ecosystems lens and defines objectives and a road map for integrating EbA into a particular system of interest (e.g. a policy, a project etc.).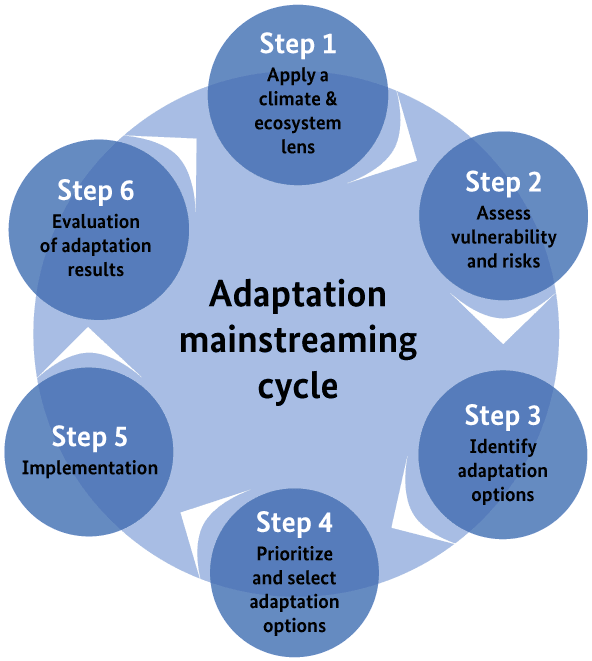 Suggested tools
Entry point for Mainstreaming EbA. A key to mainstreaming is finding appropriate entry points for integrating EbA into policy, planning and implementation frameworks. Entry points are windows of opportunity that help gain the interest of stakeholders for integrating EbA into ongoing processes. They relate to problem awareness, political will and concrete policies/solutions to overcome the problem.
Climate Proofing for Development (CP4Dev) aims at incorporating climate change adaptation into development planning. It enables development measures to be analysed with regard to the current and future challenges and opportunities presented by climate change. It can be applied at national, sectoral, local and project level, and is making development measures on these levels more efficient and resilient. Climate Proofing for Development offers a means of identifying and prioritising options for action when adapting planning to climate change and when reviewing priorities.
The Multi-Stakeholder-Partnerships (MSP) Guide by Wageningen University and Research, CDI and Rugby offers a roadmap and methods for designing and facilitating MSPs. It combines real world experience with sound theoretical foundations and practical facilitation tools to provide a coherent approach. It is not a recipe book; rather, it provides a broad outline. Each MSP will have its own unique dynamics requiring insight and creativity to forge the understanding and collaborative relationships that make change possible.