Putting EbA into action
In this step, the interventions selected in the previous step are put into action. Throughout the design and implementation, it is important to ensure finance, stakeholder engagement, capacity-building and monitoring.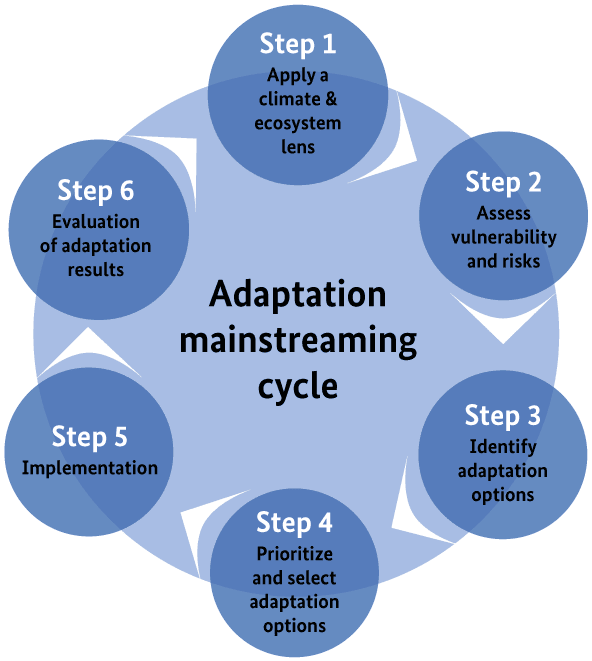 Suggested tools
Finance options and instruments for Ecosystem-based Adaptation (EbA):
Overview and compilation of ten examples (GIZ, 2018). The report provides an overview of available financing sources to implement and sustain EbA measures. It highlights ten practical and illustrative examples to inspire project developers and practitioners interested in exploring different ways to access resources and engagement models for EbA financing. It includes the following examples: 1) Engaging the private sector for EbA finance in Cartagena, Colombia; 2) The High Atlas Foundation Tree Nursery, Morocco; 3) Restoring degraded forest and agricultural landscapes under the Green Climate Fund, the Gambia; 4) People's Survival Fund, the Philippines; 5) Biodiversity offset schemes: Impact Mitigation Regulation, Germany; 6) Relevance of insurance systems for financing EbA; 7) Increasing the resilience of vulnerable rural populations through microfinance schemes, Colombia and Peru; 8) Eco.business Fund, Latin America; 9) Carbon insetting; 10) Debt-for-nature-swaps.
Mainstreaming Ecosystem-based Adaptation (EbA) to Climate Change into Development Planning – A training course for decision makers, planners and practitioners:
GIZ developed this training course in order to enhance capacities among stakeholder in partner countries in successfully tapping the potential of ecosystem services for climate change adaptation. It builds on the training courses Integrating Climate Change Adaptation into Development Planning and Integrating Ecosystem Services into Development Planning. Its aim is to strengthen the consideration and selection of EbA measures as part of an overall adaptation strategy, and to enhance capacities among development actors and partner institutions on this. The core target group are practitioners. Following the six steps for mainstreaming EbA, the course contains four core modules and is flexibly adaptable to participants' specific needs.
PANORAMA – Solutions for a healthy planet (GIZ, IUCN, UN Environment, GRID Arendal, Rare, IFOAM Organics International, UNDP) is an interactive platform and database of specific, applied examples of successful Nature-based Solutions, EbA and Eco-Disaster Risk Reduction (Eco-DRR) implementation processes or approaches. The platform can be structured according to regions, ecosystems, specific thematic areas, governance and hazards addressed. The practical examples (solutions) are consisting of specific success factors (building blocks). Useful for identifying practical EbA & Eco-DRR examples that address different targets (Aichi, Sendai Framework, Sustainable Development Goals, Nationally Determined Contributions).
'Ecosystem-based Adaptation: Working with nature to adapt to a changing climate' is a this free, self-paced course available on the global learning platform edX.org and was developed by the GIZ Global Project Mainstreaming EbA, IUCN and IISD. The course will equip learners with transferable and replicable skills in designing and implementing Ecosystem-based Adaptation (EbA) initiatives by offering targeted training on key principles, risk assessments, monitoring, and governance. By the end of the course, participants will:
Understand the role of EbA within an overall climate change adaptation strategy.

Be able to plan EbA activities in a logical order and apply EbA best practices.

Consider and integrate social aspects, such as gender, livelihoods, and traditional knowledge, into EbA projects. Understand how to mainstream EbA across sectors.