Monitoring and evaluating EbA
Monitoring & Evaluation (M&E) helps to keep track of progress made in adapting to climate change. M&E can provide the basis for learning, accountability and reporting. M&E of climate adaptation can be done for a variety of purposes, be it to monitor specific adaptation projects, the implementation of a National Adaptation Plan, or the achievement of Nationally Determined Contribution goals. There is no one-size-fits all approach to M&E for these different purposes. Ideally, an M&E framework is set up before starting implementation. An important basis for the M&E system is the vulnerability and risk assessment conducted in step 2.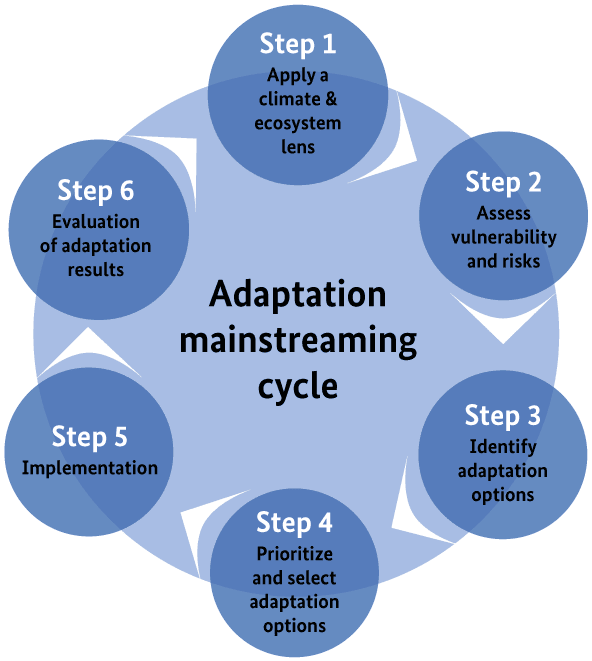 Suggested tools
A Toolbox for Adaptation M&E. GIZ has developed several tools to facilitate the development of M&E frameworks at national and subnational level. The Adaptation M&E Navigator provides orientation and suggests relevant M&E methods.
Monitoring and Evaluation – how to measure success of Ecosystem-based Adaptation: Learning Brief (GIZ, 2017). Experiences from practitioners on how to set up M&E systems and indicators for monitoring and evaluating adaptation results. The learning brief also informs about how to link M&E that is specific to Ecosystem-based Adaptation (EbA) to other monitoring and reporting systems. This Learning Brief is the result of a learning and dialogue workshop held during the 2nd international EbA Community of Practice Workshop in Bangkok, Thailand in 2017.