International EbA Community of Practice
Examples from practice
The international EbA Community of Practice aims at knowledge and experience sharing and mutual learning beyond projects, institutions and regional boundaries on EbA. Its purpose is to jointly develop harmonized approaches, evidence-based lessons learned and best practices for how to plan and implement effective ecosystem-based adaptation to help people adapt to the adverse effects of climate change through a collaborative learning process. Members of this knowledge and exchange network are primarily from governments and international organisations as well as civil society and research institutions with an interest in strengthening ecosystem-based adaptation in planning and decision-making. 
Since the foundation of the international EbA Community of Practice in 2015, the network has focused on the following topics:
Tools and methods for succesfully mainstreaming EbA
Entry points for EbA mainstreaming in decision-making processes
Vulnerability and climate risk assessments
Evidence on the effectiveness of EbA measures
Strategic communication of EbA benefits
Financing options
Monitoring and evaluation (M&E) for EbA
A variety of tools and formats for knowledge exchange and the promotion of best practices within the community of practice are applied:
The international EbA Community of Practice is facilitated by the Global Project 'Mainstreaming EbA', which is funded through the International Climate Initiative of the German Ministry for the Environment, Nature Conservation, Building and Nuclear Safety and implemented by GIZ.
Global Project on Mainstreaming EbA
The global project Mainstreaming EbA aims to strengthen the ability of decision-makers at international, national and local level to mainstream (ecosystem-based) adaptation into policy and planning processes. This is achieved by a mix of policy advice, capacity development and the establishment of knowledge networks based on practical tools and examples. The project is commissioned by BMUB-IKI and implemented by GIZ.
On AdaptationCommunity.net, the project's knowledge products will be shared. This comprises systematic strategies, methods and piloted tools for mainstreaming EbA (e.g. policy entry points, risk and vulnerability assessments, prioritization of measures, monitoing and evaluation (M&E) of EbA). To strengthen capacities for EbA mainstreaming, planning and implementing (ecosystem-based) adaptation measures, tailor-made trainings are provided on demand. EbA solutions are innovative concepts and practical approaches that inspire and help to overcome challenges to mainstream EbA. Solutions are comprised of distinct building blocks that determine its success. According to the Solution-ing Approach, such building blocks may be adapted and recombined with others to address specific challenges in other socio-cultural and ecological contexts, sectors, or geographies. The active sharing of (EbA) solutions is promoted at www.panorama.solutions.
As a facilitator of the international EbA Community of Pratice, the global project Mainstreaming EbA works closely with partner projects as well as international think tanks and NGOs all around the globe. Learn more about projects at country level and other organizations.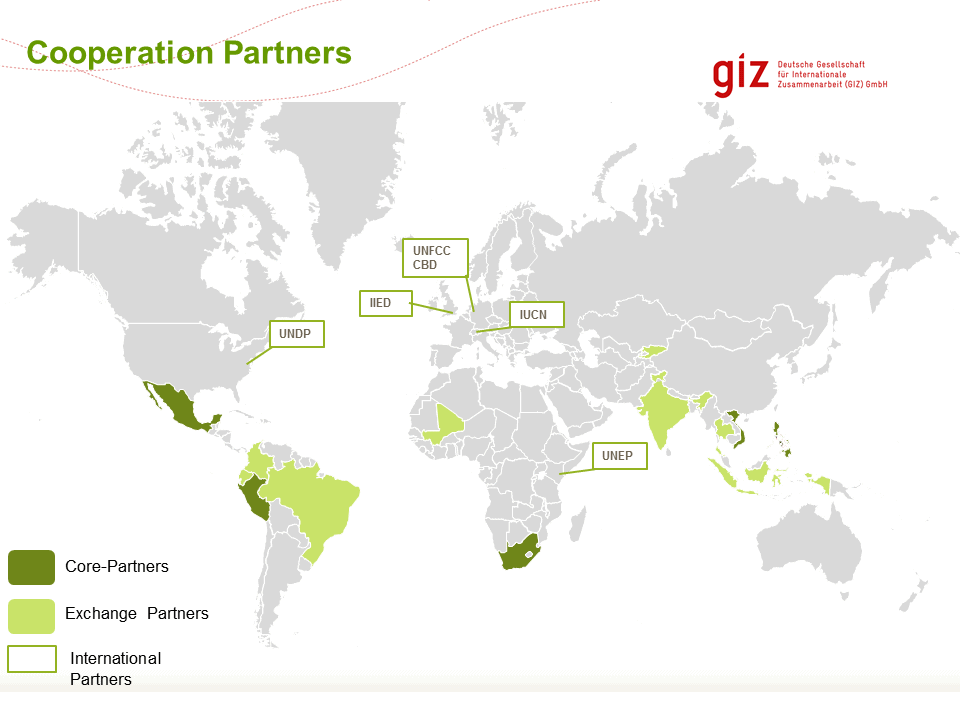 Core Partners:
Mexico:
Mexican-German Climate Change Alliance II (BMUB-IKI)
Peru:
Contribution to the environmental objectives of Peru (ProAmbiente) (BMZ)
Public Investment and Climate Change Adaptation – IPACC II (BMUB-IKI)
Philippines:
Support to the Philippines in shaping and implementing the international climate regime – Support CCC II (BMUB-IKI)
South Africa:
Climate Support Programme – CSP (BMUB-IKI)
Vietnam:
Strategic mainstreaming of ecosystem-based adaptation  (BMUB-IKI)
Exchange Partners:
Brazil:
Biodiversity and climate change in the Atlantic Forest (Mata Atlântica) (BMUB-IKI)
Central Asia:
Sustainable use of natural ressources in Central Asia (BMUB-IKI)
Colombia/Ecuador:
Ecosystem-based adaptation to climate change in Colombia and Ecuador (BMUB-IKI)
Grenada:
Pilot Programme 'Integrated Climate Change Adaptation Strategies' (BMUB-IKI)
India:
Sustainable Management of Coastal and Marine Protected Areas (BMUB-IKI)
Mali:
Programme for the Support of the National Strategy for Adaptation to Climate Change (BMZ)
Thailand:
Improved management of extreme events through ecosystem-based adaption in watersheds – ECOSWat (BMUB-IKI)
International partners – examples:
IIED – Ecosystem-based approaches to climate change adaptation
IUCN – Ecosystem-based adaptation programme