Potential EbA measures
Examples from practice
The implementation of EbA measures can be based on either a certain ecosystem service (e.g. water retention), part of an ecosystem or on one or several ecosystems. Each sector, on the other hand, should regard its relevant ecosystem services and the underlying ecosystems.
EbA measures can cover:
technical measures (such as mangrove restoration),
policy & governance measures (enhancing cross-sectoral cooperation or multi-stakeholder participation)
capacity development (train authorities in applying mainstreaming tools)
research (create a better understanding on the values of ecosystem services)
In general the type and state of the ecosystem as well as the intended outcome determine the measures to choose. The following table gives an overview of ecosystems, the measures that can be applied and the environmental, adaptation and socio-economic benefits they may achieve.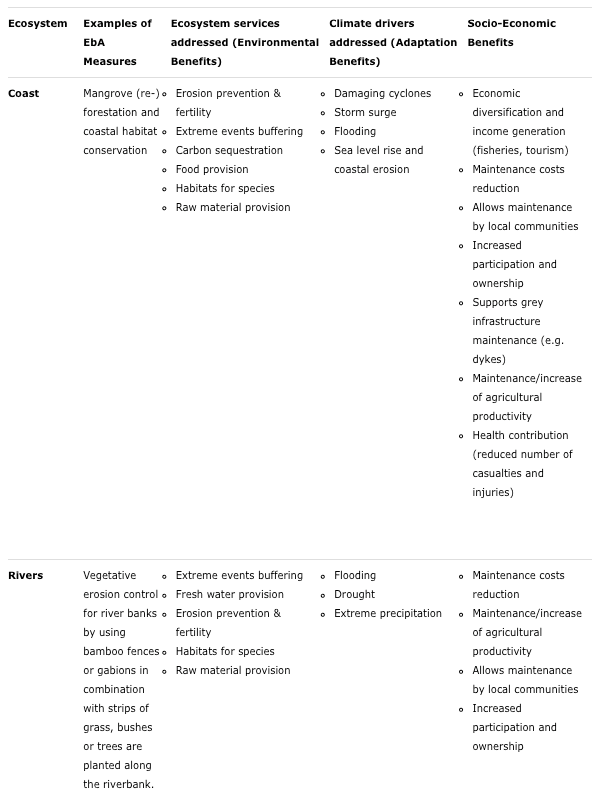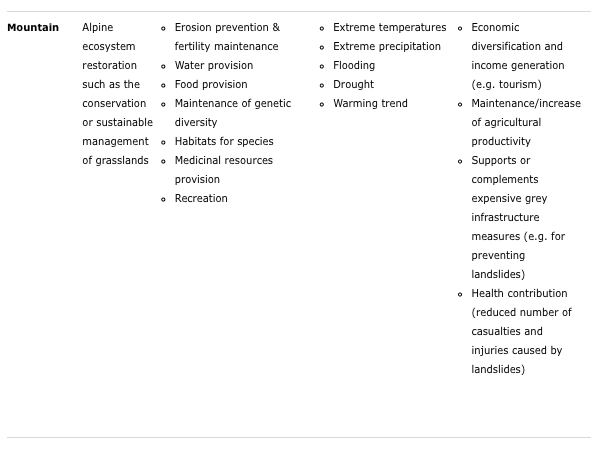 Field-proven and replicable examples from different regions and ecosystems are available under the EbA Solution Portal. This global exchange platform shows that inspiring and replicable solutions can be found everywhere on this planet and that EbA or "green solutions" are the state-of-the-art-reply to climate change impacts and deliver a multitude of benefits for societies, economies and the environment.
Further application examples:
UNFCCC- Adaptation Knowledge Database (including EbA examples )
IUCN (2014): Nature Based Solutions for Human Resilience. A Mapping Analysis of IUCN's Ecosystem Based Adaptation Projects
K-Link (Search engine with a focus on mountain ecosystems in Central Asia)